How to Build an Ecommerce Funnel
Posted by Boaz Willinger on 18 September 2018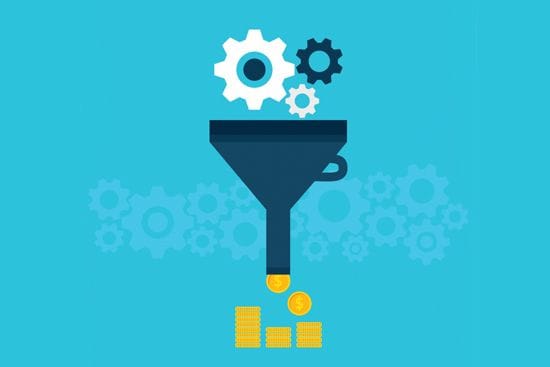 An ecommerce website lives or dies by its traffic and conversions. While strong SEO and PPC campaigns can garner strong impressions, if your visitors aren't converting, then you need to re-evaluate your ecommerce sales funnel.
By optimizing each of the sales funnel stages, you will gain more impressions, more conversions, and ultimately more customers by tailoring your conversion funnel to high-value markets.

The Awareness Stage
The icebreaker sales funnel stage, Awareness is about introducing your brand to consumers at the earliest stage of their research and showing your products can alleviate their pain point. That means optimizing your informational pages and bidding for keywords related to whatever your product solves.
Awareness Sales Funnel Examples: Say you're selling vitamin supplements that help with digestive issues, optimizing for searches like "how to ease intestinal cramps" will put your brand on the radar of consumers who need your products the most.
Remember! Click-through rate drops exponentially depending on your rankings, so don't settle for being second or third place on either organic or paid search results!

The Consideration Stage
Once a consumer lands on your ecommerce website, the next stage of the conversion funnel involves winning them over with high value content that doesn't explicitly sell, but educates.
Consideration Sales Funnel Examples: Once you've attracted consumers interested in learning more about your vitamins, you should aim to get them to convert using educational content, such as registering for a case study, subscribing to a newsletter, or even encouraging them to connect with your brand on social.
By positioning your ecommerce funnel as an educational device rather than hitting visitors over the head with hard sell tactics, you build trust with the consumer while subtly soft-selling your products and brand.

The Decision Stage
Online buyers in the ecommerce funnel generally take their time doing research. They'll visit top brands websites multiple times before making their final decision. At the decision sales funnel stage, it's important to have well-written product descriptions, clear value propositions using bullet points, and high-resolution, professional images.
However, the best thing you can do to convince consumers of your products' qualities is with a large number of positive customer testimonials. More than just having testimonials on your website, an engaged social audience will go a long way towards providing social proof that your business is the real deal.
The most important thing is for each of your web pages to end with a strong call-to-action that encourages users to take the next step down the ecommerce sales funnel, such as calling a customer service agent who can close the sale.
Decision Sales Funnel Examples: Once a consumer is highly engaged by your unlocked content, you can get them to sign-up to see your vitamin ebook or case study. Once they've converted in this fashion, you could email them a coupon or a limited time offer on the product they've viewed to sweeten the deal versus your competitors.
Whatever your ecommerce websites' goals, it's important to take a macro-view when building an ecommerce sales funnel. How are you attracting traffic? What is your CTA on your landing pages? How do you want consumers to experience your content?
These are sales funnel examples you need to think about as you construct the perfect conversion funnel for your high-value markets.
---
To build a conversion-optimized ecommerce website, contact Bloomtools Canada for award-winning web development and marketing services. We offer a full-suite of custom tools designed to enhance ecommerce websites.

Author:
Boaz Willinger
About: With over a decade of experience in franchising and business development, Boaz's passion is helping businesses bloom. Recognizing the need for online solutions that drive measurable results for small and medium sized businesses, Boaz launched Bloomtools Canada.
Connect via:
LinkedIn