Virtual Alternatives to Traditional Corporate Holiday Parties
Posted by Bloomtools Canada on 12 November 2020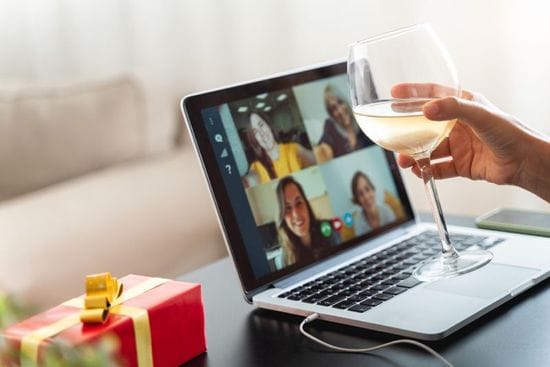 As we get closer to the holiday season, it's safe to say we won't be celebrating the way we usually do at work. While there won't be halls and restaurants booked out, large fancy dinners, or in-office potlucks, there's no reason companies can't get together and celebrate the end of the year a little differently. Virtual holiday parties can be fun, engaging events, and the best part is you can still be in your pj bottoms while in attendance!
Virtual Holiday Party Food and Drink Activities
Virtual meetings with more than 4 or 6 people can get awkward if you don't have a general outline or plan. A Zoom room is not like a regular in-person interaction where you can have a few side conversations happening at once. One person needs to speak at a time, and either address everyone, or specifically ask someone a question. This makes it difficult to have free-flowing conversations. Having a few activities that everyone can participate in makes for a more organized (and less uncomfortable) virtual party. Why not try a virtual cocktail class (like this one)? As long as everyone has the right ingredients to participate, it can be a great ice-breaker (pun intended) and still allows everyone to have a couple of drinks at the holiday party, as they might in a typical year. If you're looking for some non-alcoholic fun, try the same thing but with food! Send your team a gingerbread house kit or gingerbread people and the tools to decorate them. You can even make this into a contest and have staff vote on their favourites - This is a great way to get the whole family involved - as they'll likely be home anyway!
Invite the Entertainment
If your team is a large group, then it will likely be more difficult to get everyone involved in a single activity. Consider inviting a guest onto the call to entertain the crowd. You can hire a magician, like Coby, who specializes in creating virtual magic shows he normally performs for celebrities and corporate audiences around the world. There are different options in terms of timing and Coby keeps everyone engaged by involving people in his act. You can also consider hiring a comedian to perform virtually. Keep everyone entertained and laughing without making anyone uncomfortable or forcing them to participate. The main thing to keep in mind when deciding what to do for your virtual holiday party, is recognizing what your colleagues would be interested in. Are they generally a quiet bunch or do they love to be actively involved? This can help narrow down your selection.
Virtual Secret Santa
If you have a fairly small team that you're looking to do something personal for, consider virtual secret santa. Team members choose names anonymously ahead of time, and can either send gifts virtually or send physical gifts. Everyone can open one by one on your virtual holiday party call. Personalized gifts can bring your team closer together and each gift is a great conversation starter. You can even theme the gifts around a colour or shape, to make things interesting and challenging!
Dress-up and Add a Zoom Backgrounds
One fun, easy way to spice up a virtual holiday party is to make a theme and have people dress up for the theme. You can make it anything from an ugly sweater holiday party to a favourite film party. You can even assign films to teams and create a contest around the best dressed team! Or, get to know your team better by having them change their zoom backgrounds around a theme, such as where they're from or their favourite vacation spot.
Whatever you decide to do for the holidays this year, make sure your team can get together virtually to share stories, activities, a laugh, or a game, as everyone deserves to feel appreciated and could use some social time in 2020!
Still have questions? Talk to a Bloomtools expert about your corporate engagement strategies, internally and externally!