9 Tips to Succeed Online This Holiday Season
Posted by Boaz Willinger on 30 October 2017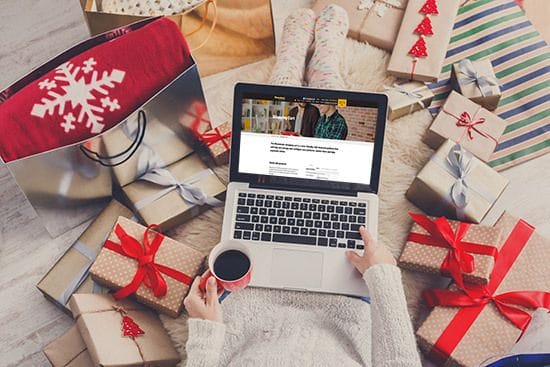 As Halloween slowly creeps up, we can't help but start thinking about the holidays. The holiday season seems to start earlier each year, so we think it's wise to plan ahead and get your reindeer in a row.
The season brings promise of warmth and family, while for business it brings the promise of a big finish to the year. Preparing for this big push can help pad your budget for the next year, so ramping up and being prepared can make or break your final months.
to help you prepare and perform this season to your highest potential, we've compiled our top 9 tips to succeed online this holiday season:
Get Seasonal With Your Images
Nothing gets your customers in a festive mood more than striking imagery that embodies the special time of year.
Visuals get your message across quickly, which captures customer attention in that precious 3-second window. Update your calls to action with holiday colours or design new holiday banners that put your visitors in the spirit. It'll show your viewers your creative side while helping them make their decision more quickly.
Not ready to fully embrace the holiday feels? Simply updating your images and calls to action to something wintry can help get the message across without cheapening your brand identity. Warm cups of tea or coffee, mittens, snowflakes, or presents are all simple yet effective images that instill the essence of the season without being gimmicky.
Update Your SEO
People are searching for your products and services - are you capturing their attention in the search results?
Making sure your SEO is up to scratch is a big deal come the holiday season as you'll want to communicate your offering right off the bat. Use holiday terminology to update your products and capture those new visitors shopping specifically for gift related items. Make sure your main headline is clear and communicates your message, your meta descriptions are on point, all links are working, and for those that have been taken down, you've set up 301 redirects.
SEO can take some time to work its potency, so starting your efforts early (at least 1 month before) can help make sure you're reaching full potential by the first snowfall.
Re-Evaluate Your Content Flow
It's more important than ever to consider how website visitors interact with your site. When you first built your menu structure you may have had a particular flow in mind, but since then it hasn't been updated!
Take a look through your website's analytics and review how users actually navigate through your pages and products. If your users aren't following the original flow you designed, it might be time to re-organize your menu and content structure to follow the flow they choose in their quest for information.
Check for things like category pages that aren't optimized for what visitors are searching for, broken links or, missing products. If you've organized your website to herd visitors toward shopping from product A, but you notice they lean towards product B instead, now is the time to clean up your flow and provide easier access to their preferred product.
Helping your visitors navigate your website is a sure way to close those interest peaks right there before they change their minds.
Step Up Your Social Game
With more people spending time on social networks each year, neglecting these channels especially during the holiday season can cost you additional brand awareness. Look at it as an opportunity to have an open and creative conversation about your products, as well as a soapbox to showcase your flexibility.
Start an open-ended conversation with your users on your social platforms to create natural engagement. Emphasize your office spirit with seasonal images on Facebook and Instagram, share your creative hashtags on Twitter, make a holiday video for YouTube, or share your product success stories on LinkedIn.
As people get into the spirit of the season, they'll be sharing some of that buzzing excitement on social platforms. Connecting with you potential clients on these platforms can double your reach together with your search engine efforts. Don't forget to share your customer's existing images and stories for that extra level of connection!
Offer Sweet Holiday Promos
During the holiday season, everyone is vying for visitor's wallets to open, so offering an extra incentive can help their wallet open like a belt buckle post-Christmas dinner. The holiday season turns everyone into a savvy shopper and with 41% of shoppers purchasing from a new retailer during his time, it's important to offer the right incentives to help them take the plunge.
Offer free shipping over a certain amount, a free gift with purchase, special holiday discounts on specific items, or flash sales on peak days. These create a feeling of exclusivity and make visitors feel like successful bargain hunters.
Make sure you feature your holiday promos prominently on your home page via bold images in your banners, or as calls to action in visible, high-traffic areas.
Spruce Up Your Emails
No, we're not suggesting adding snowflakes and Christmas trees to your email signature. We are, however, suggesting adding a seasonal touch to your email campaigns to bring a little bit of holiday cheer to your existing customer's inboxes.
Clients already on your newsletter lists are up to 81% more likely to make a purchase, so don't skimp out on letting them know what you're offering. Be direct but gentle, spruce up your email copy with seasonal phrases, highlight your offers, and instill a sense of urgency or exclusivity with phrases like "only today" or "10 more remaining". Consider hosting a contest and asking your customers to share their stories and feature them in a holiday themed blog or emailer.
Your existing customers are already your fans - treat them like the VIPs they are by creating holiday campaigns meant to keep them engaged with your brand.
Advertise!
Since most small to medium sized businesses stand to make 20-40% of their yearly sales during the holiday season, it stands to reason that it's worth investing in advertising to capture those lucrative customers. With so many avenues to reach potential or previous customers, you can make headway with almost any budget.
Whether you're looking at advertising on social platforms like Facebook and Instagram, or search engines like Google or Bing, there's a great fit for your brand to step into the spotlight. Boosting your posts on Facebook can help you reach new audiences while running a search campaign on Google can capture new visitors searching for your products. Consider investing in a remarketing campaign to remind website visitors of what they've previously looked at to keep top of mind.
With the endless world of digital marketing at your fingertips, saying no to advertising this holiday season is something only the Grinch would do.
Get On The Nice List With SSL
Google has recently mandated that SSL Certificates are key to secure browsing, and encourages all websites to have them for visitor protection. Even if you're not selling goods directly online, an SSL will be required. To make Google's nice list, double check to see if you have your SSL certificate in place!
An SSL certificate, or secure socket layer, establishes an encrypted connection between your user's browser and your website's server. All information is secured, so that little green lock in your browser's address bar could make all the difference to a new visitor. Stay ahead of the curve and make sure you've implemented an SSL certificate on your site.
Prepare For A Traffic Surge
Whether you're going to have a Black Friday sale or not, preparing for an influx of website visitors is always a good practice during the holiday season. A slower load time of 1 second can directly affect abandonment rate by 7%, so it's important to make sure your servers are ready to handle anything that may come at them.
Not sure if your servers are up to scratch? Check with your IT or service provider. Make sure you've invested in a hosting solution with levels of redundancy in place to handle a large influx of interest and avoid losing out on those key holiday sales.
---
Still curious as to how you can get ready for a successful holiday season, or need help getting your website in line? Contact Us and talk to our marketing experts about your needs for a customized solution to help you deliver during the holiday season!

Author:
Boaz Willinger
About: With over a decade of experience in franchising and business development, Boaz's passion is helping businesses bloom. Recognizing the need for online solutions that drive measurable results for small and medium sized businesses, Boaz launched Bloomtools Canada.
Connect via:
LinkedIn