How to Rank on Google: Understanding the SERP
Posted by Boaz Willinger on 17 October 2018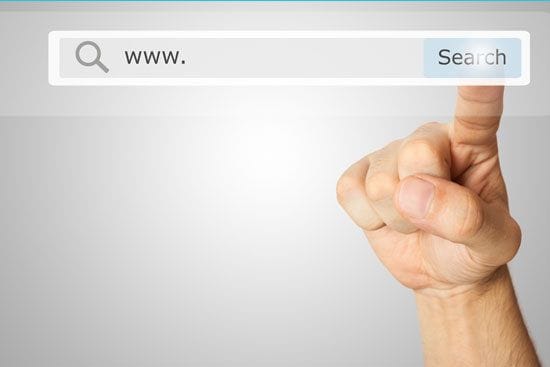 Congratulations, you've launched your new website! Now what?
The website development process is well documented and is so tightly organized that it's hard to get lost. The road to success is clearly laid out before you even begin and, depending on the package you've purchased from your developer, can have you kicking back while the project unravels itself into your brand new website.
But what happens next? You've spent time choosing the right graphics, placing your calls to action in just the right spot, and have created a 24/7 online billboard for your business ... in the desert.
We know that once you've gone live, that clearly defined road stretches out into an infinite tangle of side streets and forks with many industry professionals nudging you in this direction or that. It's hard to know where to go next, but one thing we all know we want : to rank higher on Google.
We're not here to tell you there's a magical button you press that will garner you the coveted top spot. We're here to explain how you can improve your ranking with a little bit of elbow grease and an understanding of the algorithm that rules it all.

But first, what is a SERP?
The SERP, or your 'search engine results page', is the unique set of results displayed for each search query. Every time a user types a query into the Google search bar, the algorithm behind the search engine runs through options of what websites to display based on relevancy. Each SERP is unique to the user and can be influenced by a variety of factors including relevancy, but also the user's search history and location.
Here's an example of a simple SERP with one ad:
The components of a SERP can vary, so the set results you will always see are:
Paid Search Results
Organic Search Results
Additional results you may encounter include:
Google My Business Profile
Maps
Sitelinks
Snippets
Images
Videos
Reviews
Shopping Ads
These are always evolving, so be on the lookout for new blocks, carousels, and personalized items as Google evolves to align searches to queries better.

Mastering the Basics: Organic & Paid Search Results
If you were to think of the SERP as a sandwich, your bread would be Google Ads, and your ingredients would be the organic listings.
The difference between them? A few bucks.
Paid Search
The first 3 spots at the top and last 3 spots at the bottom of a SERP are reserved for Google Ads customers who've bid and paid for these placements. Ads are easy to spot because they sport a green "ad" icon before the URL to the website. Google Ads are a digital auction run by Google where either you or your advertising agency will build campaigns filled with organized AdGroups, keywords and tailored ads that you then bid your maximum CPC (cost-per-click) on.
Your cost-per-click is relative to the industry you're bidding in, so a law firm will pay a different CPC than an ecommerce business. The relativity of cost-per-click correlates to your cost-per-acquisition (CPA); acquiring a new client for a law firm may return over $1,000, but a new customer for a fidget spinner site may only return a $20 purchase.
How does Paid Search work in your favour? It places your ads above (or below) the organic listings. With the right advertising team behind you (and we recommend hiring a team of professionals to manage your Google Ads account), your ads, and by extension your website, will be placed at the top of the search page garnering more views, clicks, and leads.
Organic Search
Ranking for organic search results is achieved through a combination of diligent content publishing, SEO foundations, relevancy, and domain history. Websites you'll see ranking organically at the top are usually sites that provide valuable information users are searching for, so to no surprise, Wikipedia tends to rank highly on many searches.
Ultimately, Google is a series of intelligent algorithms,so ranking organically on Google depends on your website's content that has been optimized for search. You may have built a beautiful website, but you've forgotten your title tags, meta descriptions, or don't have a solid keyword strategy in place. Your developer or digital marketing partner will be knowledgeable in the basics of organic SEO and can help you organize your existing content.
To grow your organic reach, it's imperative you have a consistent content strategy for your website. Publish blogs, new pages, and social content to share your industry knowledge with those looking for you. Create a keyword list of terms you'd like to rank for and develop your content around it. Think of it as an ingredient list keep it on hand every time you're cooking up new content to make sure you're using those vital ingredients.
Composing new, SEO-friendly content for your website may seem easy at first, but we always suggest supplementing your efforts with professionally written content by experts who know how to write for both Google and its users.
How do you know whether to focus on organic or paid? Read our SEO vs. PPC : Choosing Your Online Marketing Path article to learn how to distinguish between the two and allocate your budget effectively.


Advanced SERP: Capturing Additional Google Search Placements
If you feel like you've got your paid and organic search elements organized and are looking for additional ways to showcase your business on Google, take a look at some of these alternative placements.
Google My Business Listing
We've compiled a list of why Google My Business is Essential to Small Businesses so if you're interested in finding out more, have a read.
Google My Business is a free search result panel that is served when users are searching for your business. This box is placed to the right of search results and highlights your website, location, photos, reviews, Q&A and more.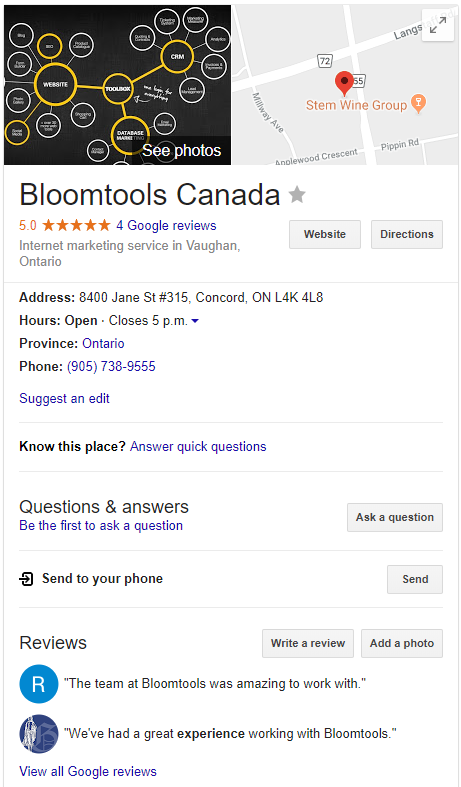 Since this listing is absolutely free it's important that take the time to set yours up. Google makes setup simple and have even created an app that lets you manage your listing directly from your phone including uploading photos, changing business hours, answering questions and reviews.
Google Maps Listing
Putting your business pin on the local map can help your brick-and-mortar business get found by local searchers. Take a look at this search term and the result: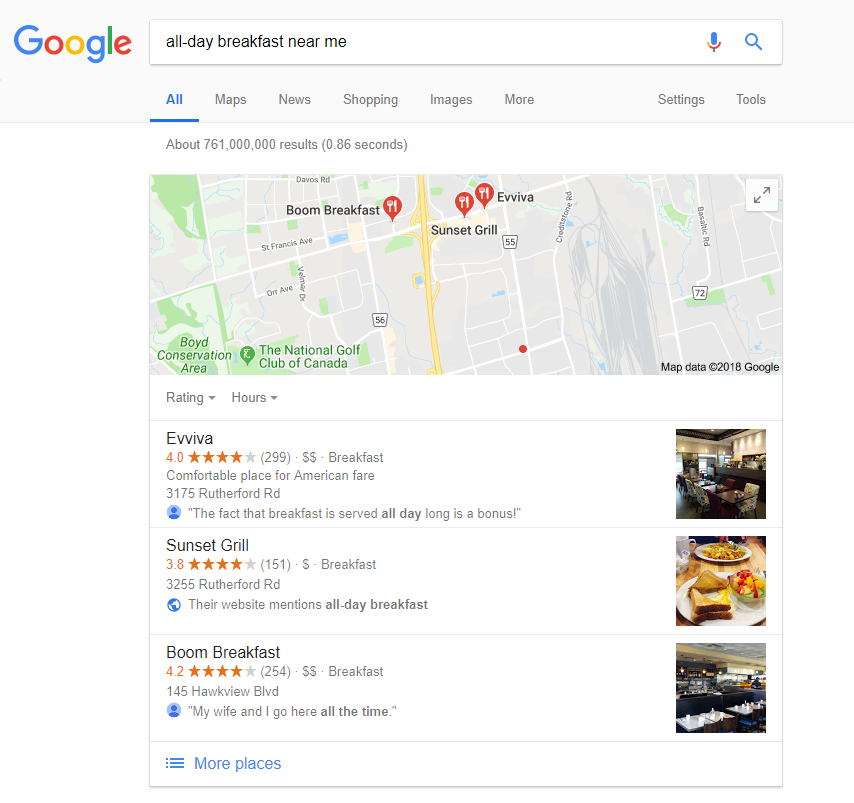 The map panel is placed above organic results making it a coveted spot on the search results that's absolutely 'free' to capture. But why is free in quotation marks? To capture one of the top 3 map listings, you must have:
A verified Google My Business profile
Your business must be properly categorized
An optimized Google My Business listing
Reviews
There's no exact science to position, but placement is influenced by the amount of reviews and the star rating of those reviews. Google has rolled out a paid map position option so it is now possible to pay for your business to be placed above all others on the map.
Google Featured Snippet
A Google featured snippet is a small excerpt from an expert article that aims to answer the query (or question). Here's a sample Google snippet: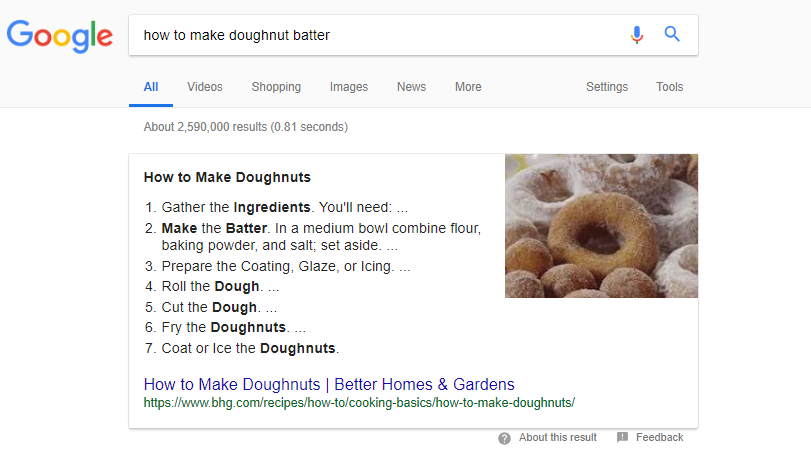 The snippet is placed below paid ads but above organic results with text that is larger and bolder than the rest of the results. This makes it a coveted spot on the results page. However, capturing a snippet is a difficult feat. Since mid 2017, only 12% of searches provided snippets, but the numbers are expected to increase as users look for faster answers. The top organic ranking page is rarely the source of the snippet but you do need to rank on the first page to have a chance of a featured snippet - so if you have your sights set on placing one of these, aim for quality.
To optimize for a feature snippet, try to identify common questions in your industry and check these searches to see if a snippet already exists. Those without snippets are your key to capturing this spot. Create content on your website that answers those questions in a simple paragraph or point form list. These are the best contenders for getting a Google snippet placement.
Google Shopping Ads
If you're an ecommerce business and sell goods online to consumers or other businesses, you know that ecom is one of the most difficult online markets to break into without a little paid help. Thankfully, Google has heard the ecommerce industry's plea and created Google Shopping Ads the huskier sibling to Google Ads.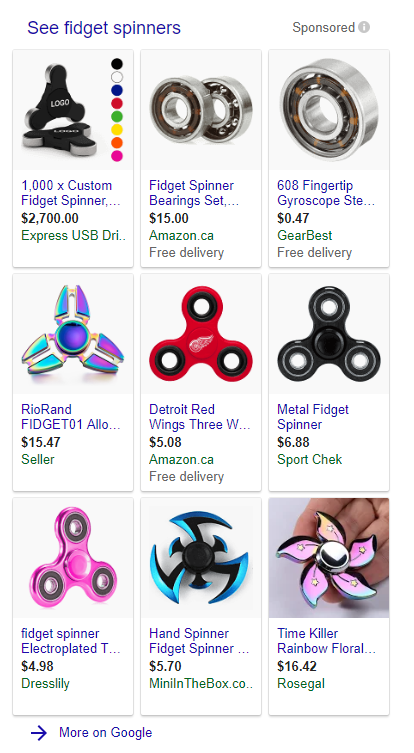 Shopping Ads on Google only account for about 20% of paid advertising so there's plenty to be gained as the competition is still quite low. According to Digital Marketer, some ecommerce sites have seen their conversions improve by 130% using these types of ads.
Google Shopping Ads are a horizontal block of displayed items that users can shop directly. It offers a photo of the item for sale, name, price, and the website. It's a quick and effective way to capture users who are looking to make a purchase because it displays the price right there.
Because these ads are more difficult to set up, we recommend working with a professional digital marketer to set up a shopping ads campaign.
Small Steps to Big SEO: Other things to do
On top of the basics and some of the more advanced work you can do for your website to rank better on Google, there are other small tweaks you can make to stay in Google's good graces.
These include things like:
Ensuring all your images are titled properly (this includes alt and title tags)
Make sure your developer has set your website up properly to trigger site links when possible
Make sure you upload videos to YouTube and optimize with their Keyword tool
Gently ask your customers for reviews on platforms like Google and Yelp
For reviews, never solicit them; rather, ask your customers how they felt about their experience with your brand and if they'd be willing to share that experience on Google or Yelp.
---

Is your website buried on page four or five of Google SERPs? Climb to the top of organic search results and above your competitors with a combination of SEO, paid search, and content marketing from one of Canada's leading web development companies.
Call us for a consultation and we'll determine which digital marketing channels will get you to the top of Google, accruing more impressions, leads, and revenue for your business.

Author:
Boaz Willinger
About: With over a decade of experience in franchising and business development, Boaz's passion is helping businesses bloom. Recognizing the need for online solutions that drive measurable results for small and medium sized businesses, Boaz launched Bloomtools Canada.
Connect via:
LinkedIn