SEO vs. PPC : Choosing Your Online Marketing Path
Posted by Boaz Willinger on 26 September 2017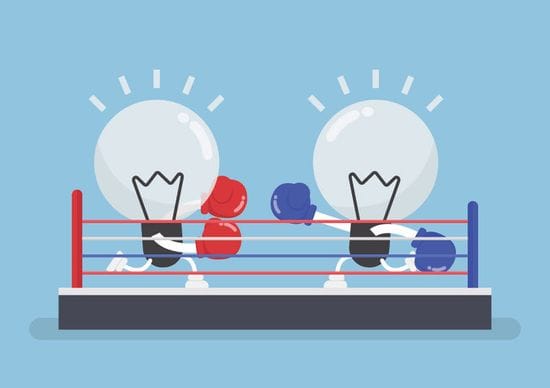 If you've been working on a marketing plan, you've probably heard that investing in your digital marketing is a must. Online marketing is cost effective, proven and measurable, making it a natural inclusion.
But you've probably also heard the terms Search Engine Optimization (SEO) and Pay-Per-Click (PPC) thrown around. While SEO is the process of affecting your website's ranking in a search engine's unpaid (organic) results, PPC is the process of strategically paying for preferred placement. Each has its merits and benefits. So how do you choose which route to take? What's the best combination of the two? Which should you start with? How do you get the most for your marketing dollars? What makes the most sense for your goals?
These are some loaded questions that we aim to answer in this article to help you make better, informed marketing decisions.
But first, let's take a look at some statistics:
2017 SEO Statistics:
70% of clicked search results are organic
75% of users don't click past the first page
61% of users say they're more likely to buy from mobile-optimized sites
2017 PPC Statistics:
41% of all clicks to go the top 3 paid ads
65% of high-intent searches result in ad clicks
50% higher likelihood of purchase comes from PPC visitors vs. organic
Whichever you choose to execute your plan, a strong strategy will get you qualified leads with a good number of conversions. Before we delve into the nitty gritty, let's also take a look at some of the pros and cons of each strategy.
SEO: The Slow and Steady Contender
With a small marketing budget, SEO may be your only option. As there is no investment necessary for SEO, it's the most cost effective for a marketing strategy. However, what it makes up for in budget savings, it drains in time consumption.
SEO is typically comprised of richly created content driven to consumers looking for more information. It takes the keywords users are searching into account to create an information rich experience for site visitors. SEO strategies include blogging, FAQs and website page content.
The long term benefit of SEO are its greatest advantages. While it may start off slowly it can grow exponentially over time, providing you with the visibility you need for conversions. This makes for a sustainable marketing option that captures high-quality organic traffic.
Because SEO is a time investment, the ROI yield is high because there is no price attached to leads or conversions besides your time. Further, because you're capturing organic traffic, the conversion rates trend higher, as these are informed consumers looking specifically for what you do.
Unfortunately, SEO can be curbed, and the number one complaint marketers state are algorithm changes. We won't bore you with how search engine algorithms work, but keep in mind that search engines are frequently updated which may negatively impact your SEO efforts.
Major Google updates like Panda and Penguin have changed the search rankings - so to be a strong competitor you'll need to stay up to date on search engine trends and upkeep maintenance. Further, SEO can be hit with penalties in case of poor content, as we saw with Google's most recent "Fred" update.
Since you can't just write a new article and be ranked immediately, the second complaint marketers make is that SEO takes time to show results. Patience is really of the essence, as there are many factors involved in ranking well. The simple act of having your website crawled can take weeks, and even then reaching page one is not a guarantee.
SEO is the boxing champion that practices diligently on and off season to keep in shape for any eventuality.
PPC: The Power Punch Contender
PPC can bring qualified, ready-to-buy leads to your website, and the immediate traffic is clearly visible in your analytics.
A smart paid search strategy is a great way for new businesses with little to no brand awareness to drive traffic and boost their visibility quickly. Paid search ads can increase brand awareness by up to 80%. The conversion rate is also a major bonus as paid ad clicks are 1.5x more likely to convert.
Pay-per-click advertising involves setting up campaigns with targeted keywords and users in mind, for which a real-time auction occurs on ever search. The biggest slice of PPC pie still goes to Google, but other outlets also offer targeted advertising, such as Facebook, LinkedIn, Pinterest, Instagram, Twitter and Bing.
The downside is the upfront costs which are much higher with PPC than SEO. The most expensive CPC (cost-per-click) is the Insurance industry with a whopping $54 commanded per click for the top spot. This is followed by $47 for Mortgage and Attorney services. Not only are some of these expensive to bid on, but as more and more companies implement PPC into their marketing efforts, the prices are bound to rise. In some cases, a Google PPC strategy might not be in the cards for newer start-ups as the cost of traffic acquisition will outweigh your potential sales.
Lastly, a PPC campaign will only work as long as you're paying for it. The minute your campaigns end, your traffic will drop right back to where it started.
What does this mean? Since you can invest in SEO, which works around the clock to get you visitors, PPC works only as long as you pay for it. with no long term overall gain besides the immediate customers you've acquired. PPC is the boxing champion that practices hard before the big fight but lays dormant if there's no match lined up.
Starting with SEO First
Brands with small budgets for which PPC isn't an option, will have to take this route first. This investment comes in the form of time but you'll really be building a strong foundation toward long-term sustainability.
Think of it like building a snowman - getting the snowballs to grow is the hardest part but once they get going, it's easy rolling.
It may take 6 months or longer to see the effects of the SEO work you've done, but once it reaches its potential it never really stops working for you, unless a critical error was made or an algorithm update knocks it down. In the end, 93% of all online experiences start with a search engine, so optimizing for them is simply smart business practice.
If you can wait for leads to pour in, SEO is your best bet to slowly build your search engine clout, setting yourself up for a fruitful future.
Starting with PPC First
If you have a good budget set aside and are looking for fast results, PPC is a good bet for your business's starting strategy. You can gain exposure with minimal input to your target audience in as little as a day, as long as you're set up to spec.
The bonus with a paid campaign is that you have a wide range of platforms to choose from for targeting. In the early days of paid search, your only option was Google which, as we learned earlier, has become quite expensive.
Bing is less expensive and typically reaches users over the age of 35 who are less tech savvy mainly in the United States. Google users tend to be younger than 35 with more tech savvy traits. There's lots of potential, then, with other search engines like Bing to target your ideal market given they lean towards using that search engine more often.
Facebook is a more recent player in the paid search market, but with two billion monthly users and stellar targeting options, you're almost guaranteed to grab your audience's attention. Further, because Instagram is owned by Facebook, you can target your audience across two major social platforms through one outlet.
Twitter, LinkedIn and Pinterest have expanded into advertising, too. Twitter lets you advertise directly to users' feeds, or create an advertised hashtag for increased awareness and interaction. LinkedIn can help B2B's target their ideal market, as well with choices in job position or vertical markets. Lastly, Pinterest allows placement of ads based on interests. With a predominant female demographic under 40 and 93% of active Pinners stating they use the platform to plan a purchase, it's a great B2C option for fashion, travel, food and decorating.
The gist here is that there's an advertising medium for any business, and the only hurdle you'll face is your budget.
The Breakdown
SEO is like planting perennials - the fruits of your labour won't be immediately visible, but once they sprout, you can enjoy them for years to come. Likewise, PPC is like buying annual flower baskets - your investment is sporadic but beautiful, though next year you'll need to re-invest if you want bright beautiful blooms to grace your landscaping.
Choosing the right strategy is rarely straight forward, and a good strategy should include a good mix of both.
So who's the clear winner? We deem this match to be a tie.
Are you planning on developing a marketing strategy that includes SEO and PPC? Our team of processional content writers and certified PPC experts are ready to consult with you to get your digital marketing strategy to work for you. Contact us today and let us help you drive more targeted traffic to your website!

Author:
Boaz Willinger
About: With over a decade of experience in franchising and business development, Boaz's passion is helping businesses bloom. Recognizing the need for online solutions that drive measurable results for small and medium sized businesses, Boaz launched Bloomtools Canada.
Connect via:
LinkedIn