Are You Keeping in Touch With Your Clients? This is How to.
Posted by Bloomtools Canada on 7 October 2020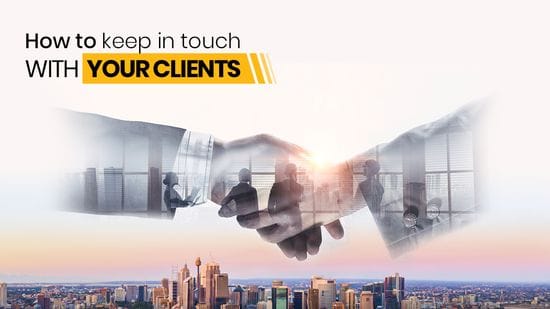 68% of all people leave a business, because of 'perceived indifference' - What are you doing to keep your clients?
The relationship between businesses and their clients in is changing. It is no longer characterized by simply providing a product or service that someone wants to buy.
Did you know it costs less money to retain an existing client than it does to acquire a new one?It can cost up to 5 times as much to attract a new customer, as well as more time and effort on your behalf.
Consumers have a plethora of brands to choose from today, and so are increasingly aware of who they are buying from and looking to buy from businesses they like. It is more important now than ever for businesses communicate with their customers frequently and across multiple channels, to remain the business of choice and to stay top of mind. Bearing this in mind, here are some effective ways to keep in touch with your customers, both before and after a sale, to help forge a strong and long-lasting relationship.
If you're wondering how, it's pretty simple: keep in regular contact with your existing clients while you actively seek to grow your customer base.
We've put together a list of the best marketing tools you can use to do just that:
Delivering a substantial ROI (return on investment), email marketing is one of the most efficient ways to keep in touch with your clients. They can also be automated, making it super simple and time saving for you.
Often overlooked and underrated as a marketing tool, email marketing creates a touch point with existing clients and is one of the most highly regarded tools for customer retention, with 56% of marketers relying on email marketing as the most effective method of customer retention.
Email marketing can also be a personalized experience. With segmented audience lists, you can deliver more targeted offers to the most appropriate and most likely to convert members of your audience.
A segmented email marketing campaign can offer you the following benefits:
Increases perceived value of your services or products
Shows you know and care what your client might be interested in
Increases open rates
Influences sales leads, ultimately producing greater revenue
Special offers for your customers and expert tips that are exclusive to the newsletter.
Additionally, with greater access to emails through smartphones and tablets, email marketing is more important than ever before.
We strongly believe in leveraging the powers and tools of social media to retain clients and recent studies suggest we're not alone - 44% of U.S. retail professionals say social media drives their retention.
Crafting an effective social media strategy is an ongoing process that requires time and care. The effort isn't wasted though, as it's an effective way to strengthen relationships with customers. It is a great way to be sociable and keep in touch with your customers. Engage in conversations with them and provide advice and help where you can.
Share their content, offer support and be friendly. Via social media, you can also keep them up to date with your latest services or offers without being too salesy.

SMS marketing can be a great way to get in touch with your clients on the spot. As with email, SMS can be used to send reminders, value offers or service reminders. If you've got an offer you want to push out fast, you can send it out on SMS and know it's most likely in the hands of your clients almost automatically.
To make customer retention as simple and straightforward as possible, we've created the Bloomtools database marketing software that includes all the tools you need - from email marketing and online surveys to event management and SMS marketing. With a large range of free email templates and access to all of your contacts in one place, the database marketing tool works seamlessly with your website and CRM. Best of all, it's also spam act compliant.
Whatever tool you choose to use, it's important to remember that customer retention is only one aspect of your journey. Continuing to grow your customer base through acquisition strategies alongside your retention strategy is the most efficient way to get results.
Additionally, we suggest you review the data that these tools and campaigns produce so you can gather a greater idea of what is and isn't working for your audience and harnessing these strengths for your benefit.

Personalized Print
Finally with personalized print cards, you can utilize your marketing database to send out personalized, physical cards to your clients. As part of the Bloomtools Database & Email Marketing system, you can have these cards automatically sent to your clients.
Not only does this create another touch point to help strengthen the relationship between business and consumer, it reminds them you're still there for them, providing value and being thankful they chose your business and overall, enhancing their loyalty to you.
Some of the most popular personalized card strategies are:
Birthday cards
Anniversary cards
Welcome cards to new clients
Christmas cards
Valentines Day cards
Implement simple fixes and strategies to strengthen your client relationships to stop the lose of potential revenue for your business. If you're looking for help getting started with any of the above tools, feel free to get in touch with our digital marketing and internet specialists on 1-844-448-6657 or book a consultation.