Visit Bloomtools at the National Franchise & Business Opportunities Show in Toronto!
Posted by Boaz Willinger on 1 September 2015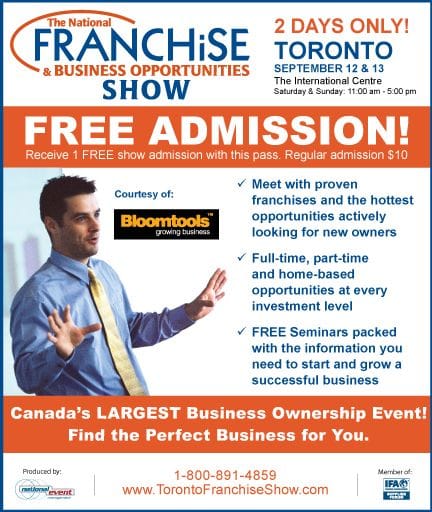 Our team will have a booth at the Toronto show on September 12th and 13th! We'd love to chat with you about Bloomtools and our franchising opportunities, so don't forget to stop by!
The show is the place to discover Canada's best franchising opportunities. You'll also be able to attend informative seminars and learn what you need to know to grow a successful franchise business.
Also don't forget to claim your free admission! All you have to do is click HERE, print off the image and present it at the door!
Event Details
When: September 12 & 13
Time: 11 a.m. to 5 p.m.
Where: The International Centre in Toronto
Map to the venue:

Author:
Boaz Willinger
About: With over a decade of experience in franchising and business development, Boaz's passion is helping businesses bloom. Recognizing the need for online solutions that drive measurable results for small and medium sized businesses, Boaz launched Bloomtools Canada.
Connect via:
LinkedIn