Your Cost Per Click is Increasing - and This is Why It's Good News
Posted by Boaz Willinger on 26 January 2018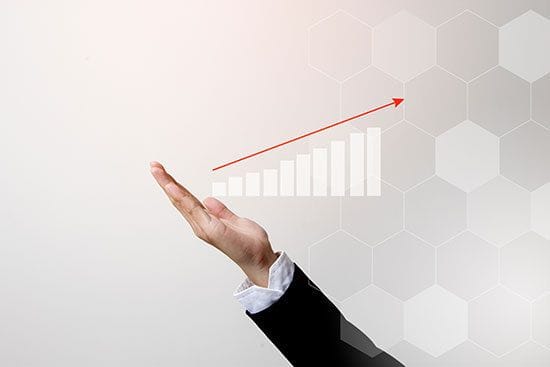 You've probably seen the little ads at the top of Google search engine result pages (SERP) that beckon you to click on one featured business or other.
If you've dug your heels into advertising on Google, you'll want to skip ahead to our discussion on how your increasing CPC is actually great news.
Advertising on Google
Google AdWords is a powerful advertising engine that offers businesses the opportunity to capture viewers in those key micro moments where they're looking for a product or service. This is done through an auction process where each time a user enters a query, anyone vying for those keywords in their query bids to receive a position on the search engine results page's ad space.
The process is almost instantaneous, yet complicated enough where the highest bid doesn't necessarily equate to premium placements. This avoids bid bullies and deep-pocketed brands coming in and dominating search spaces. Ad position is determined in those microseconds between a viewer hitting enter on their search, and receiving the results; a combination of the maximum bid, ad relevancy, and website quality are all important factors in where your ad will be placed during that calculation.
Determining Factors to Performance
There are two main elements to advertising on Google you must firstly be aware of to succeed: Quality Score and Ad Rank.
Quality Score - Google's Relevance Metric
This metric is Google's determining factor on whether your ad will serve the viewer the best answer to their query, and if it's of the caliber and quality to fulfill that need. The more Google deems your ad to be relevant for a keyword, the better your quality score and chance of serving the ad in those instances.
One of the key factors in your quality score is Click-Through Rate (CTR) which is determined with a simple equation: clicks divided by impressions. An impression is the amount of times your ad has been served, while clicks is the number of times out of those served that a viewer clicked your ad. For example, if your ad was served 100 times and was clicked on 50 times, your CTR is 50%.
Another element of quality score is your website or landing page experience. Your landing page is the link that your ad leads to, which is an extension of your website. If your ad promises answers to the best mashed potatoes but leads visitors to a list of chicken recipes, your landing page experience is below average and you should consider changing it to a more relevant one.
The better your campaign's CTR and landing page experience, the better the Quality Score as seen by Google, and thus your ad deemed more relevant. Higher quality score leads to lower bid requirements, too.
Ad Rank - Determining Ad Position
Ad Rank considers your Quality Score (and by extension, your CTR), CPC (your bid amount), and your website (or landing page experience). It's a metric that heavily relies on your Quality Score, combining it with your existing ad position and your competitor's performance.
A lofty Ad Rank isn't something you achieve then forget about. It's a calculation Google performs each time it's about to serve your ad so keeping up your performance is key. Ways to control Ad Rank beyond your CTR, website, or CPC include adjustments to keywords that closely match your industry, as those will be the most relevant, removing poorly performing keywords, and adding negative keywords to protect your account from poorly matched results.
So How Does Increased CPC Mean Better Business?
If good Quality Score improves your Ad Rank and leads to lowered cost per bid, then why is it a good thing to see your cost-per-click increase?
The most important factor here is time - Google has been offering ad space for sale to businesses since 2000, which means that over the last 18 years the popularity of these services has only increased. So has competition for the ad spaces it has on offer. Where two years ago you may have been the only one bidding for mashed potato recipes, today you may be one of 10. The fact that competition has increased 10-fold means that by the same virtue, your CPC will have increased as a result of others bidding for your same keywords. Some industries have become quite competitive while others have yet to reach the same push for the top.
Knowing the value of your product allows you to calculate your Cost Per Acquisition (CPA), and with that number in mind, you will understand the value in a higher CPC. Most people believe clicks cost about $1 - $2, but the costs are relative to industry and competition. A $20 CPC may be high if you're selling $10 earrings online, but if you're selling $2,000 Tahitian pearl earrings, the CPC fits the bill.
Higher CPC on high quality keywords also means that your advertising team is doing something right. If you're paying $1 more for a keyword that is extremely relevant to your business, and that keyword makes you 10x its value in sales, then your increased CPC is paying off significantly. Aggressively bidding on your top performers to outrank the competition may seem like a budget drain, but the trade off is significant for your business as a result. If you're bidding for lower cost keywords, you may end up with cheaper clicks that don't convert to sales, so spend a little more on those high value keywords and get those valuable visitors that do!
---
Bloomtools is a Google Partner and as such has a proven track record of maintaining and setting up lead generating AdWords campaigns. If you're looking to expand your digital marketing into search, get in touch with us today and see if we can help get you on the right track to improved ROI.

Author:
Boaz Willinger
About: With over a decade of experience in franchising and business development, Boaz's passion is helping businesses bloom. Recognizing the need for online solutions that drive measurable results for small and medium sized businesses, Boaz launched Bloomtools Canada.
Connect via:
LinkedIn