Marketing Tools 101 : What You Need In Your Marketing Backpack
Posted by Boaz Willinger on 20 August 2018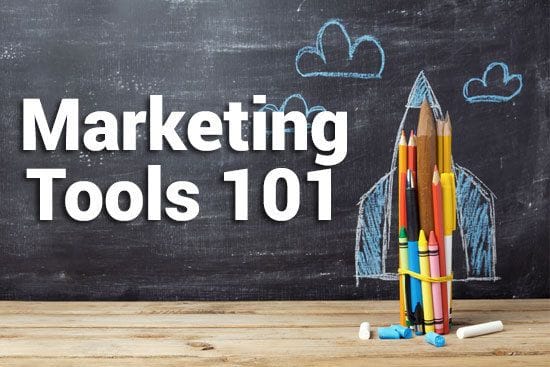 When the forces of parental glee meets student sorrow, it can only mean one thing : back-to-school is upon us. That means shopping for new books, pencils, Avengers T-Shirts and replenishing those backpack supplies.
In the spirit of the most wonderful time of the year (for parents), we've done some back to school hunting for your digital marketing needs and what you should have in your marketing toolbox - or, 'marketing backpack'.

Landing Pages (The Crayola Set)
Landing pages that don't make the grade can quickly undo any branding you've done for your business. Typically, landing pages are the first real encounter a consumer has with your online presence, so it's important your landing pages are engaging and relevant to the value proposition that drove consumers there in the first place.
Landing pages are a lot like a student's set of crayons for marketing, it allows you to get creative with the design to put together aesthetically charming, consistent, landing pages for your digital marketing campaigns. You'll want to make sure you have unique landing pages for new campaigns but the value these will add to your advertising efforts can be immense.

Blog Manager (The Post-It Note Stack)
Students pass along important news and information (what's the answer to question 17? who stole Tommy's purple monkey charger?) via Post-It notes, and marketers do the same thing with blog posts.
You're probably familiar with the upside of curating a company blog, and utilizing a blog manager tool can help you get the most out of your efforts. A blog manager doesn't just keep blogs organized, it also helps you manage blog comments from readers, integrate social media commenting and sharing, provide an RSS feed of your posts, and integrates with softwares that automatically push your freshest posts out to your social channels.

HootSuite (The School Agenda)
The school agenda is an unheralded tool of students to remind them to cram for that Chemistry test the night before.
Likewise, HootSuite can keep you from flunking on your social media marketing.
One of the most popular social marketing platforms available, it can help you compose, schedule, and monitor your social posts from one intuitive, easy to use interface. You can monitor all your channels through here - Facebook, Instagram, Twitter, and more - and forms of engagement and messaging on your dashboard. It allows you to coordinate your brand message across campaigns and align them with your social media messaging.
Like a school agenda, HootSuite helps keep you on top of what's going on while providing organization to your social strategy.

Shopping Cart (The Calculator)
Remember when teachers told us we'd need to learn long division, since we wouldn't be carrying calculators around all the time? Pepperidge Farm remembers.
And they were wrong thanks to the invention of smartphones. Marketers have a similar tool for online marketing which is clutch for e-commerce clients - the Shopping Cart.
A secured, e-commerce shopping cart makes accepting payments seamless, integrating popular gateways like PayPal and Moneris. Order management is simplified, allowing you to quickly see payments, shipments, processes, invoices, and more. Best of all, you can easily add discounts and promos, price per weight, and other variables that can be automatically calculated in the Shopping Cart. It can also manage multiple currencies, eliminating the need to balance conversion rates every week.

Database Marketing (The Construction Paper)
An automated email platform can create a deeper connection between your site visitors and your brand. It empowers marketers with custom email and newsletter creation tools to make fun emailers that focus on a particular message much like colourful construction paper projects students glue together in school.
Along with engaging emails, a database marketing tool can help you keep on top of customer needs integrating surveys, shop products, and segmenting your clients into niche groups so your communication will always stay on message.
---
If your marketing backpack still has some space, check out our list of marketing tools that can help your online advertising and presence get an A+.

Author:
Boaz Willinger
About: With over a decade of experience in franchising and business development, Boaz's passion is helping businesses bloom. Recognizing the need for online solutions that drive measurable results for small and medium sized businesses, Boaz launched Bloomtools Canada.
Connect via:
LinkedIn