Why Google My Business is Essential to Small Business
Posted by Boaz Willinger on 19 July 2018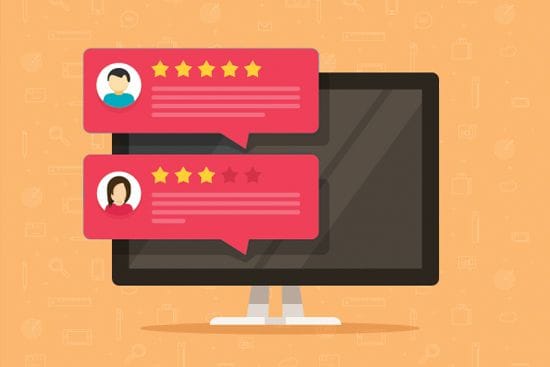 While internet users see nothing more than links and text on Google's search engine results pages (SERPs), marketers and small business owners see a digital battlefield. The clash for land (SERP space) between listings, websites, ads, maps, and text makes it difficult for small businesses to combat big brands' weapons of mass advertising.
That makes it crucial for small business owners to gauge the benefits of the platforms they're advertising on Are paid ads the way to go? Should you focus on organic results instead? including their reach, and where your target market is.
But regardless of your business goals, there's one platform that's essential to all small businesses: Google My Business.
Google My Business (GMB) is a one-stop listing that allows local businesses to appear on SERPs via search, maps, and Google Plus, improving visibility and giving small business owners a chance to succeed in SERP combat zones.

Google at a Glance
Google's still the most popular search engine on the web today, meaning you'll need to be visible in searches to reach the largest audiences:
66% of desktop searches come from Google
93% of worldwide mobile searches are done through Google
Google is the most-visited digital media property in Canada
And for small local businesses in particular:
4 out of 5 consumers utilize Google for local information
50% of local mobile searches led to a store visit within 24 hours
34% of computer and tablet searches resulted in a store visit

The Benefits of Google My Business
While large businesses undoubtedly have GMB listings already, every business has a chance to capture a prominent listing if the basics are covered and its delivering value to potential consumers.

The Google Podium
You've probably done a Google search where a map and three local businesses alongside relevant details and review scores appeared first, like this: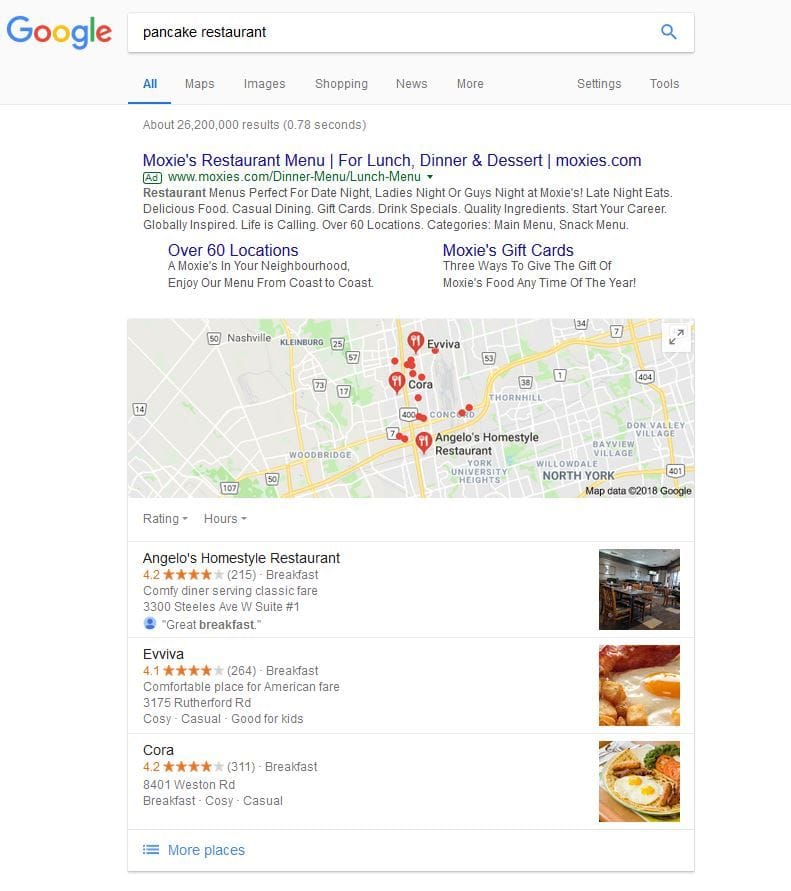 It's the adage fictional-yet-iconic NASCAR driver Ricky Bobby lived his life by: if you ain't first, you're last.
GMB can put your small business first on search engine results pages, toppling even the best search engine optimized websites related to the query if you manage to get yourself into one of the coveted three spots on Google's local listings. We call it the 'Google Podium', but instead of a gold, silver, or bronze medal, you'll get more traffic and leads to your business.
Unfortunately, even if you occupy one of the three prominent local results on the SERP, it'll still follow paid Google advertisements. There's another adage for you: you get what you pay for.

Exact and Broad Searches
With Google My Business, a consumer can search for your business name and receive important details instantaneously, like your location, your hours of operation, contact information, reviews, and more. This is all handy to a local user that may be within minutes of your location.
The only drawback here is you aren't driving traffic to your site, though the benefits of the listing should make up for any traffic loss.
Besides exact search, what really sets GMB apart is the ability to appear in searches for a particular business type. Your business will have the chance to show on general, broad searches in addition to your brand name for example, your coffee shop can appear for 'Toronto coffee shop' or 'coffee shop near me' or even just 'coffee shop'. This dramatically increases the visibility of your business to online users.
Having said that, getting onto the Google Podium can be a challenge with these broader business-type searches. This will primarily depend on the level of competition in the local area and review scores.

Home is Where the Money Is
GMB can help your small business monopolize local searches, and that's all you'll ready need considering your scale.
It'll help you cover searches for your business type ('coffee'), as well as geo-targeted searches ('coffee Toronto'). The more queries your business can appear for on SERPS, the more eyes you'll get on your business, meaning more ... well, business.

The Importance of Mobile
You're probably aware of how important mobile search is now mobile users have surpassed every other device platform. By extension, this makes mobile search visibility more crucial than ever, too.
Consider that Google My Business listings dominate mobile search results, combined with the popularity of mobile search, and ... we're sure you can put the rest together yourself.

Cost-Effective Brand Awareness
Maybe the best argument to having even a basic GMB is it's cost-effective and by that we mean it's absolutely free. And taking into account the opportunity of putting your business in front of so many more potential customers, there's really no excuse not to have GMB.
For small businesses that must carefully manage their advertising budgets, this is as good as it gets, so take advantage!
---

If your small business has been battered and bruised by competitive SERPs, Bloomtools' digital marketing experts can improve your search visibility with a Google My Business setup, as well as paid advertisements and an SEO strategy for your site.

Author:
Boaz Willinger
About: With over a decade of experience in franchising and business development, Boaz's passion is helping businesses bloom. Recognizing the need for online solutions that drive measurable results for small and medium sized businesses, Boaz launched Bloomtools Canada.
Connect via:
LinkedIn