Writing Email Titles to Improve Open Rates
Posted by Boaz Willinger on 27 February 2017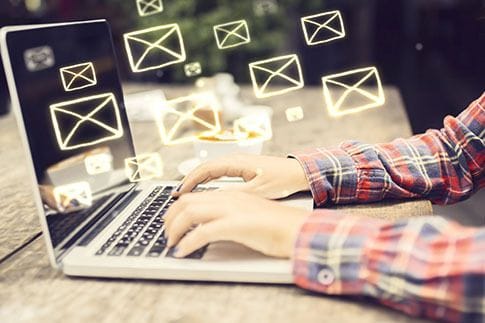 Your e-mail's subject line is more important than its content.
Don't get us wrong, we're not undermining the merit of content by any means. Your visuals could be stunning, your body copy could be mesmerizing! Your content could truly be the driving force that pushes your readers to smash that subscribe button.
But in the end, none of that will matter if your e-mail doesn't get to see the light of day!
Nowadays, having a robust e-mail marketing strategy is not optional - it's a necessary! E-mail marketing is the go-to for keeping your company front of mind with your consumer base. Existing customers convert 60-70% of the time, and are responsible for 40% of a company's income!
Your e-mail title (also known as the subject line) is your first impression you'll make on your consumers. You only have up to 50 characters to convince them your e-mail doesn't belong in the digital wasteland!
Needless to say, there's no room for error. But don't worry - we're bringing you 5 tips that'll help you write slam-dunk e-mail titles to improve your open rate, and increase your conversions.
1. Don't Sell. Engage!
There are few things in this world your clients will appreciate less than seeing the classic, "Buy now and save 10%" featured title in their inboxes. If your subject line's reading like it came straight out of a How-To for Dummies, chances are your e-mailer's going to be getting a one-way trip to the digital trash bin.
And it's not just your clients that will despise your e-mails.Words like free, discount, miracle, and many others (Check out this meticulously collected list for reference) tend to trigger spam filters!
Fortunately, there are ways to write engaging titles that intrigue your contact database all without resorting to used-car-salesman type rhetoric.
For instance, try writing 'life-hack' titles that urge readers to click out of their own interest and well-being: "Important Products to Boost Your Home's Health". Strongly worded titles that speak to our primitive minds, such as "Building Retail Spaces That Don't Suck",are also great ways to get recipients to engage with your e-mailer.
2. Numbered Lists
In general, the same elements that make a great headline (Writing Blog Introductions that'll keep People Reading) also make a great e-mail subject line!
Numbered lists tend to work particularly well. In the age of information overload, the use of numbers in the subject line promises the readers content presented in bite-sized info packets that are easy to digest.
Including numbers in your title also tends to make your e-mail stand out in their inbox due to its character variety. The inclusion of numbers makes them at least slightly more visually striking in comparison to the sea of words around them.
3. Be Fun!
You can never go wrong with having a bit of fun with your subject lines by using some of these writing tricks:
Create Mystery
:A human's desire to know is without bounds! A line such as, "It starts at midnight" teases toward your recipients' desire for knowledge, and even creates a sense of suspense.
Create Scarcity: Elicit some FOMO in their minds by letting them know that your deal is only on for 48 hours, that it ends today, or that there's only a limited quantity available.
Single-Word Titles
: Minimalism. One-word (or very short) e-mail titles may feel like click-bait, but if done right, can pique even the most seasoned marketing hands into opening!
Unique Punctuation: Want to be consistent with your branding without resorting to other tactics? Try ending your title with a question mark, or other fun and unique symbols. Just don't go overboard by writing it in all caps with 8 question marks lodged at the end. We can't stress this enough: less is always more!
Use your Location in the Title
: Letting your audience know you're local keeps their interest peaked, and also creates a sense of community and exclusivity. Try a title like "10 Best Mom & Pop Bakeries in Toronto", rather than "Small Business Bakery Listing". You get the picture.
4. Deliver a Consistent Message
Do remember to keep the message and design of your e-mail campaigns consistent. If your corporate colours are black and orange, make sure your e-mail's header and footer reflect that branding so that your readers know immediately it's from you.
It could also be a good idea to include your company name in your title to let people know quickly whom it's from ("What's new with Bloomtools this February?"). If you do a monthly newsletter, keep your titles consistent all throughout the campaign!
And beyond all of the different tactics you can use to spiffy up your e-mail campaigns, the most important thing is to...
5. Know Your Demographic
The best way to reach your demographic is to truly understand their needs, interests, and habits. Leveraging what you know about your recipients is the best way to write your perfect e-mail title.
Do you have a really wide audience? Segment your recipients into groups based on interest or preference categories. That way, you'll be able to more concisely target your audience's interests, and really get cracking down on improving your campaign's open rates.
---
Bloomtools' e-mail marketing platform can help leverage your e-mail campaigns to effectively brand and market to your target consumers! From tracking opens and click-throughs to managing bounces, our fully integrated analytics will give you the power to manage every detail behind your e-mail campaign.
Contact us today for your free assessment!

Author:
Boaz Willinger
About: With over a decade of experience in franchising and business development, Boaz's passion is helping businesses bloom. Recognizing the need for online solutions that drive measurable results for small and medium sized businesses, Boaz launched Bloomtools Canada.
Connect via:
LinkedIn