15 Canada 150 Campaigns - Best of Emotional Marketing
Posted by Boaz Willinger on 29 June 2017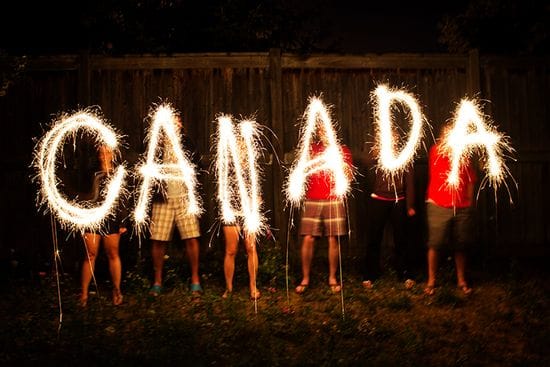 With Canada Day around the corner, we've been taking note of some of the great marketing initiatives and awareness campaigns that are being pushed out. This year in particular has marked an interesting turn in marketing - a move from traditional advertising towards emotional advertising.
Consumers have shifted their interests and become passionate advocates for movements; a shift that companies have taken note of and are beginning to incoroporate into their brand culture. Emotional marketing focuses on how brands make us feel rather than how they sell to us. Creating a feeling to bridge the gap between the product and the consumer is the next natural step in advertising. Studies have shown that humans don't think their way to the solution but rather feel - by tapping into this emotionally driven process companies have found a great way to communicate value, worth, and to sweeten the deal through smart marketing strategy. Tapping into the 4 core emotions of happiness, sadness, fear/surprise, and anger/disgust, brands drive connection to solidify their relationship with consumers.
This year, for Canada's 150th quincentennial birthday, some of the biggest brands have put together a collection of the most memorable, heartfelt messages to create an emotional connection with their customers and their feelings about Canada. We've compiled a list of our favourite #Canada150 movements and commercials to celebrate this momentous occasion.
---
President's Choice #EatTogether
President's Choice put together a heartfelt, inclusive piece very much grounded in today's reality. As everyone thethers to their smartphones and electronic devices, we are reminded to stop and smell the roses (or pot roast). The strong connection between food and people is beautifully highlighted leaving us with a craving for diverse foods and true human connection.
Canadian Tire's #RedAndWhite
Blending a heartfelt song with the slow lighting of red and white lights gives us a connected community feeling from Canadian Tire's #redandwhite Canada 150 campaign. Tapping into our Canadian community and love for our country, we think Canadian Tire did a wonderful job making us feel proud without a single spoken word.
McDonald's Happy Birthday Canada
A true feel-good commercial from one of the greatest marketing powerhouses in the world. This quirky piece plays out like a really fun game of truth or dare - would you like to pay for your meal today by singing Happy Birthday to Canada? It taps into our shared joy for celebrating birthdays and uses the most recognized song in the English language. Evoking feelings of pride, happiness, and making you want to sing along, we extend a gratuitous bravo to McDonald's for this advertising gem.
The Government of Ontario's Place to Stand
Ontario has taken an emotionally laden approach to celebrating Canada's 150th birthday by focusing on multiculturalism - the fabric of the country. Ontario's rich history of immigration is celebrated by showcasing the future of the province through its continued efforts to grow together. A well executed reminder of who we are as a country and province.
Molson's #ATasteOfWhoWeAre
Molson is no stranger to viral marketing. Think back to the multilingual fridge, or the classically unforgettable Canadian 'rant' (totally worth rewatching for a refresher). Molson has been making us feel extra Canadian for years so their Canada 150 campaign #atasteofwhoweare focuses on celebrating the regular people of Canada that strive to make their communities and Canada a better place. It celebrates their strength, determination and devotion . The entire campaign revolves around nominating a deserving Canadian based on their merits to win one of 150 Molson Canadian beer fridges. Nothing makes us feel more Canada proud than the idea of nominating local heroes and a beatiful red beer fridge.
Have a look at the current nominees and winners here
Coca Cola's Great Canadian Chase
Coca Cola has been bringing great marketing into our lives for decades and their twist on Canada's 150th birthday does not disappoint. Taking a humorous approach of a raec and taking us through a minute long journey across our great land, the advertisement ends off on a very Canadian note. This one had us chuckling and reaching for a refreshing Coke.
Via Rail's All Aboard!
Via Rail tackles their Canada 150 campaign by reminding us of the sheer size of our country and how they hellp connect us from coast to coast. With upbeat music and beautiful scenery, this ad makes you feel proud, adventurous and ready to buy a ticket to the coast. A well executed message of connectivity and a strong reminder of who and what Via Rail is.
The Aga Khan Foundation's Pluralistic World
This invigorating, fast paced celebration of Canada's varied tapestry of cultures celebrates our message of a pluralist world. Showcasing their various initiatives the ad beckons viewers with lively music to join the foundation and take action. What makes this campaign great is the format of carefully selected clips and action inducing music to instil a feeling of great accomplishment in Canadians who have helped shape our diverse cultural fabric and strong call for equality.
TD's 150 #TDCommonGround Grassroots Initiatives
Rather than making a commercial, TD decided to invest their efforts into something that is truly meaningful for Canadians - our environment. By investing in 150 community-driven grassroots eco movements across our great country they have enabled projects to plant trees, build trails and redevelop green space in urban areas. We are loving the emotional connection this movement makes between Canadians and the environment. A well executed brand-to-movement message to celebrate Canada's 150th.
Take a look at some of their great initiatives here.
Tim Horton's Born on Canada Day
Quite possibly our favourite of all Canada 150 campaigns, the entirety of the ad plays out like a minute long movie. It's engaging and leaves you wondering what the brand or message is right to the end. Devoid of any initial product placements, the focus is on the birth of the next generation with the final, epic punch line delivered to make your heart explode. To those who've shaped our coutry, and those who will, we give this campaign 2 thumbs way way up!
Roots 150 Years of Being Nice
The Canadian pride, Roots, taps into our Canadian collective to redefine and affirm the meaning of the word 'nice'. By playing into the internationally known 'nice' nature of Canadians, it evokes powerful messages beyond the dictionary definition leaving us feeling courageous, giving, caring, and pulls us together no matter the movement. This is a great example of emotional marketing at play.
CIBC's Canada 150 with Percy and Connor
CIBC has been sticking to Percy the Penguin for their marketing for some time now so it's only fitting he captures the spotlight on their Canada Day campaign. Including a Canadian favourite Connor McDavid and the classic canadian past time of canoeing, the two banter back and forth about how to celebrate Canada day discussing other collective summer favourites like barbecuing and playing hockey. This commercial has us craving for a long good old-fashioned Canadian long weekend.
Agriculture Canada's 150 Years of Tradition
Agriculture Canada connects their consumers with heratage and agricultural diversity. It's a genuinely heartfelt depiction of the diverse agricultural landscape of our prairies offset by the slow creation of our beloved maple leaf in crops. The advertisement instils a sense of pride and inspiration while reminding us of the breadth of time since we first became stewards to this land and nurtured it.
Starbucks' #150pluswishes
Starbucks is no stranger to doodles on their iconic cups. For Canada's 150th birthday they got us thinking about what our hopes and dreams for our great country's future are and asked us to submit these wishes as doodles on their cups. Teh result is a rich mosaic of Starbucks cups scribbled with the most heartfelt, Canadian, birthday wishes for our 150th birthday. This is UGC at its finest and we couldnt' be happier with this campaign.
Take a look at some of the great doodles so far here.
RBC's #Make150Count
For Canada's 150th birthday, RBC gave thousands of young Canadians $150 with nos trings attached to do something great. The resulting advetisement feels more like the trailer to a feel-good movie than a commercial for the Royal Bank of Canada. These youth invested back into their communities by giving back to the homeless, poor, community happiness and other initiatives. By tapping into our hopefullness for our youth, this marketing initiative has us feeling hopeful and happy long after the commercial is done.
See their stories here.
---
Bloomtools Canada helps businesses design, execute, and drive digital advertising campaigns for brand recognition, awareness and reach. If you need help with your initial steps of Website development or design, or further marketing strategies and engagement, contact us today to get a free review and see how we can help your business bloom.

Author:
Boaz Willinger
About: With over a decade of experience in franchising and business development, Boaz's passion is helping businesses bloom. Recognizing the need for online solutions that drive measurable results for small and medium sized businesses, Boaz launched Bloomtools Canada.
Connect via:
LinkedIn