Creative Ways Businesses Are Adjusting During the COVID-19 Times
Posted on 5 April 2020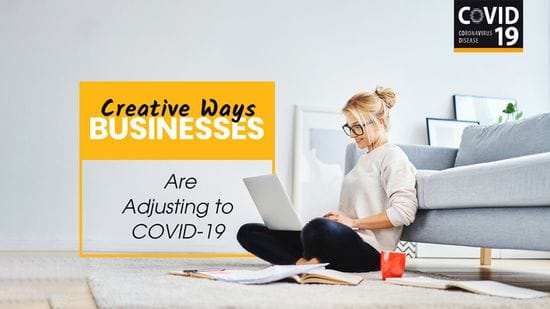 It goes without saying that times are different. They're also incredibly uncertain - especially for businesses. Maybe the thought has crossed your mind, "to market or not market?" while this uncertainty lingers.
Let's look at history - during the GFC, there were so many businesses stunned by what was happening globally, they stopped financing their marketing. However, the few that carried on were some of the few that came out stronger and able to hit the ground running faster than others.
You shouldn't be thinking about stopping; think about what you need to do to adjust to the current climate with your campaigns, offers and services. Below are a selection of some positive stories we've heard from clients so far about the action they're taking - think as you read them if there's anything you could do differently during this challenging time.
Caterers: After losing all business for upcoming events overnight, this company utilised their years of doing business with loyal customers in a different way. Using Facebook and email marketing to reach out to past customers, the company is doing home delivery meals and thriving as people stock up on food. Using Facebook regularly (and sometimes boosting posts) she keeps enticing customers with updates on orders they could put in.

Gin Distillery: Making something that is desperately needed by the market instead - swapping from making gin to hand sanitiser.
Videographer: Losing all event bookings, this client changed strategies by now teaching and guiding businesses on how to create some training, announcement, marketing and product videos - and is now on the road to doing more teaching and editing projects. He is promoting this online locally to businesses, with the goal that following the crisis, he'll have all this new business and can ultimately help these new clients with bigger projects, where he can do more complex videography for them.
Health specialists: A specialist health team that does seminar events for their referrers on location is now offering online webinars to add value to their clients, enabling people to view them online at the scheduled time or watch/listen to them later. They are promoting these via their email marketing to their database, but also attracting a new audience via Facebook advertising to their niche market.
Financial advisors: Now promoting and booking their initial meetings online, and doing them via Zoom/GoToMeeting and Hangout tools. People can see them via the camera, and watch and hear their presentations - removing the barrier of people wanting to be isolated from others.
Dentist: After completing a Government online training course in COVID-19 on infection control training, they sent an email marketing campaign to their complete database outlining what they are doing to protect their team and clients and let everyone know they were still there.
Fashion stylists: Using Instagram to market their services, stylists are now providing at home consults online - viewing a client's wardrobe and what they are wearing to then make suggestions of clothes to buy online to suit their colour, size, shape and design styles.
Blinds store: After doing what they thought would be their final sales promotion for a while, a client selling blinds received a call from a customer interested in using their cancelled holiday funds to work on their house. This is a trend being seen where people who now have refunded or saved holiday funds are re-directing it towards improving their house. You can also see it in local Bunnings stores as people line up to get their project stock in.
Veterinarian: Now selling pet food with a special discount online, this vet partnered with another local business who now had a spare delivery vehicle not being used, in order to have the pet food delivered - now both businesses are making money.
Gym: A number of local gyms are now carrying out their bootcamps, classes and workouts via Zoom or Google Hangouts (along with doing PT sessions that way too).

Dance Studio: The same principle as local gym personal trainers, classes are now being held online via Zoom and Google Hangouts/Google Meet. Email marketing programs are being used to send out the meeting ID's and passwords.
If you are still seeing clients, it is highly recommended that you add to your home page, Google My Business listing or email how you are operating during this time, whether you are visiting clients or if clients are coming to you and the cleanliness precautions you are taking for your team so clients know it's safe to allow you into their homes, shop/consult, or buy your products.
It's important not to assume that things will stop. You need to be out there persevering, as many will stop and even though the market will be less, the ones that stay out there will be the ones that win; 'when the going gets tough the tough get going.'
Let us know of other good business stories you have heard or how people are adjusting to the times via email.
I hope these snippets give you some inspiration and ideas. Feel free to reach out to us if you need someone to explain how to take parts of your business online. We are all working as normal here at Bloomtools and we're happy to help.
Be safe, take care and overall stay positive - this will pass.