What Email Marketers Can Learn from Pokemon Go
Posted by Boaz Willinger on 26 August 2016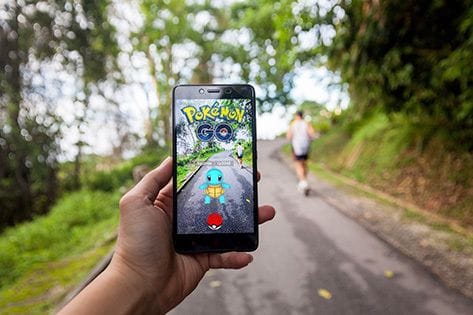 By now, you should be well aware of the Pokémon Go phenomenon. From homeowners suing the game developers for placing Pokéstops on their property, to what looks like half of New York City clamoring to catch an elusive Vaporeon, Pokémon Go is influencing user's behaviours like no phone app ever has.
Augmented reality (AR) has propelled to the mainstream alongside the nostalgic game; it's not the first app to incorporate this technology, but easily the most popular one. The results speak for themselves: since release, Pokémon Go is outplacing Twitter in daily number of users, and has surpassed Facebook in terms of engagement.
Companies can only dream of engagement like that, but they've taken notice of the small app's huge success. Augmented reality is being thrown around in branding and marketing spheres, trying to replicate even a fraction of Pokémon Go's unprecedented feats.
So how are marketers leveraging the game's best features, and applying them to their marketing strategies?
Why Is Pokémon Go So Engaging?
The Pokémon Go apps revolves around AR technology, layering a virtual universe over the user's true geographic location. The app extracts users' information via Google Maps, such as their GPS location, to build an augmented world using real landmarks. This allows users to interact and engage with virtual Pokémon in the actual neighbourhood they live in. The app is so attuned to real world coordinates that it adjusts the type of Pokémon you catch based on your whereabouts. A walk in a park will expose users to grass-type Pokémon, while a day at the beach will score a boatload of water-based Pokémon.
There's no doubt users were initially wide-eyed at catching and battling Pokémon on the streets they walk everyday. It's success, however, can be attributed to both its simplicity, and a fulfilling reward system. Users are instantly gratified with cool rewards, based on the Pokémon they catch, or the distance they travel.
The most important takeaway here is how the game personalizes itself based on the user, which in this case enhances geographic location.
Augmented Reality and Marketing
Branding and marketing experts have been salivating at the applications of virtual reality as a completely new avenue of advertising and selling. But they should be equally as excited about the capabilities of AR in marketing strategies.
Taking what we've learned from Pokémon Go, specifically how AR can engage consumers, and there's certainly opportunity for marketers to explore. Augmented reality is ideal for mobile platforms, and coupled with geo-tracking makes for a powerful, personalized user experience. If there's one element every consumer yearns for, it's personalization; an individual experience will always trump a cookie-cutter one.
Alright, that isn't news to you savvy marketing experts out there. But when it comes to something like email marketing for example, remember that 64% of brands use generic email copy. And roughly the same percentage of companies don't use customer data to personalize the products and services advertised in a marketing email. There's huge potential for email marketers that can be seized here. AR empowers marketers to personalize emails AND provide an engaging brand experience.
Augmented reality fills every need of the 'email marketing trifecta': mobile, personal, and engaging.
Using AR to Engage Consumers
The power of personalization can be utilized by email marketers through cross-channel integration.
At its most simplistic, when a marketer sends out an email, a link to an app or platform can be integrated. This will send users to a platform that uses AR technology, which can siphon preferences, location, and demographic information from the smartphone, and create a completely custom user experience.
Let's use a basic example to illustrate the thought process here. If a consumer has a special occasion coming up, a company can send a triggered email with AR integration. This will deliver a custom template to the consumer, which can be something like a digital party, complete with a virtual cake, balloons, the works. Snapchat is already employing this type of branding.
Using augmented reality marketing to engage consumers applies to virtually (hah) any vertical. A cross-channel distribution program in the automotive industry, for example, could use triggered email campaigns to focus on customers in the market for a new car. Complete, virtual tours of cars the consumers researched on their phone would be included, and can be done right in the person's own driveway. A travel and tourism business could add a New York City skyline to the horizon of a person's phone who's looking for a trip to the city. The possibilities are limitless.
Pokémon Go's evolutionary success not only proves to us that consumers are receptive to the personalization of AR, but yearn for it. Email marketers in particular can utilize this knowledge to engage consumers when, where, and how they want it.
Combining individual user data from a smartphone, along with appropriate email trigger campaigns, allows email marketers to do more than inform. An entirely unique experience can be built digitally to enrich the organic experience in the real world all at the touch of a button.
Are you looking to build an email marketing campaign for your company? Bloomtools email marketing software can send newsletters, welcome letters, company updates and even trigger emails, building relationships with your customers.
To get started on your email marketing campaign, or to learn more about our toolbox of digital marketing services, contact us today!

Author:
Boaz Willinger
About: With over a decade of experience in franchising and business development, Boaz's passion is helping businesses bloom. Recognizing the need for online solutions that drive measurable results for small and medium sized businesses, Boaz launched Bloomtools Canada.
Connect via:
LinkedIn